Man Sucker Punches Flight Attendant Midflight
An airplane passenger was caught on video punching an American Airlines flight attendant from behind during a Wednesday afternoon flight from Cabo San Lucas, Mexico, to the Los Angeles International Airport, KTLA-TV reported.
The apparent beef? Another passenger told the station the attacker had just been told he couldn't use the lavatory in the front of the plane because he wasn't a first-class passenger.
What are the details?
Video shows the flight attendant standing in the aisle and speaking toward the back of the plane and saying, "Are you threatening me? Are you threatening me?" and then apparently directing the man to sit down.
With that the flight attendant turns around and walks toward the front of the plane — and the passenger follows, running up and punching the flight attendant from behind in the neck or head.
The passenger then heads back toward his seat as other passengers howl in disbelief.
Barrie Livingstone, the passenger who recorded video of the incident, told KTLA the flight attendant was "so shocked" by the punch.
"Once [the passenger] started screaming at him, the flight attendant just turned around … and walked away," Livingstone added to the station, noting that the passenger then "jumped up out of his seat and bolted down the [aisle] and punched him in the back. It was totally unprovoked."
What happened next?
KTLA said four other passengers got up and helped restrain the attacker using zip ties on his hands and feet.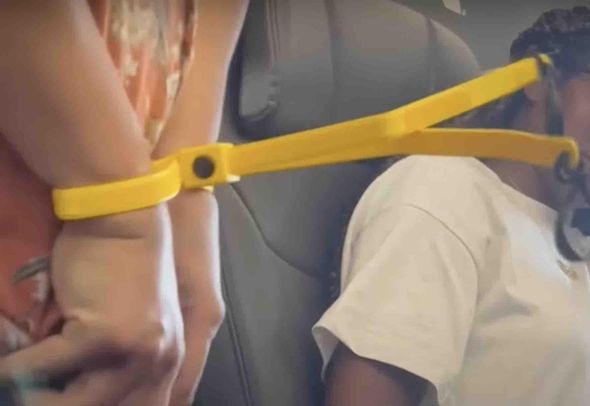 "It felt like you were very helpless and then every 10 minutes, he sort of had Tourette's [syndrome] and would just lash out and start screaming and shouting about being the messiah and feeling misunderstood," Livingstone added to KTLA.
Once the plane landed, LAX police and FBI agents took the passenger into custody, the station said.
The FBI is investigating since the assault took place in the air, KCBS-TV reported, adding that that the unnamed passenger was detained on suspicion of interfering with a flight crew, which is a federal offense.
"Acts of violence against our team members are not tolerated by American Airlines," the airline said in a statement, according to KTLA. "The individual involved in this incident will never be allowed to travel with us in the future, and we will work closely with law enforcement in their investigation."